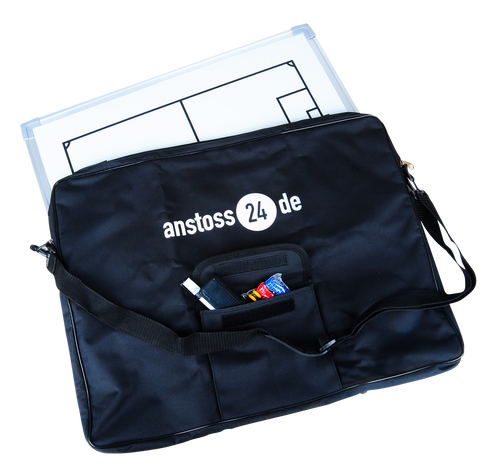 ELF Sports transport bag for tactical board in different sizes sizes
(12)
different sizes selectable
Item no.:

590T

Delivery time:

Please choose a variation
---
Size: Please choose
45 x 30 cm

60 x 45 cm

90 x 60 cm
---
---
The top model among the pockets for tactical boards. This great ELF sports bag shines through good workmanship and the use of high quality materials. Due to the robust materials this bag has an enormously long durability and protects the inner tactical board sufficiently against scratches and impacts.
Furthermore, the transport bag has a practical shoulder strap to transport the tactical board safely, quickly and easily. In addition, there is a large pocket which can be closed with a Velcro fastener, attached to the front of the bag with enough space to store the sponge, magnets and pens or even the player pass folder.
This bag is available in different sizes - 45x30 cm - 60x45 cm and 90x60 cm.
At a glance:
ELF Sports

Bag for magnetic tactical board

bag is available in different sizes - 45x30 cm - 60x45 cm and 90x60 cm

High quality workmanship, very robust and durable

incl. shoulder strap and small pocket on the front with velcro

Delivery WITHOUT tactical board, pen and magnets
Super
. 2021-08-30 12:30:09
Sivinski 's Liga 2020
. 2021-08-29 12:18:54
Products related to this item
Sale
Sale
Sale